At Hospitality Home Care, we are not only physician owned, but also recognize that we are only as strong as our staff and are proud to employ a variety of qualified compassionate individuals. Each member of our team brings his/her own diverse knowledge and experiences to our agency in order to ensure you receive the most comprehensive services possible. Please take a moment to read more about us and learn how we collaborate to continually make our agency the absolute best at caring for your needs.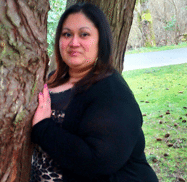 Marlene Diaz
Care Supervisor
Marlene brings to Hospitality Home Care's Care Supervisor Team an unprecedented level of passion for caring for others and a wealth of knowledge and understanding in the care services field. Marlene has worked in the healthcare field for more than 15 years in a variety of settings including, adult family home administration, home care HR supervising and working with specialty populations including dementia, mental health and developmental disabilities. Throughout this time Marlene has also maintained her caregiver credentials that she obtained as a teenager because, while her knowledge is best served helping to train caregivers and assist families to get the care they need, her heart is most fulfilled when she is providing care to others. When she is not in the office, you will most likely find Marlene caring for her family, or spending time with her friends.

Christine Vanderhoff
Community Relations Coordinator
Christine was born in the Tacoma area and sees her position as Hospitality Home Care's Community Relations Coordinator as her dream job! Christine obtained her Associates Degree in Business Management and Event Planning from Pierce College in 2013. She has a history of taking care of her friends and family when they are ailing and brings to the agency an ambitious drive for helping people in the community. Christine's friends know her as "the go to person" when looking for care services and community resources and she is rarely seen in the office without a smile on her face, or a friendly word to say. She is a strong leader and is enthusiastic about providing care resources to those in need and planning community educational classes and events. Christine spends most of her work days meeting with people out in the community instead of in the office, but when she's not working you can find her involved in her church's events, hanging out with her friends and family and enjoying her love of cooking.
Ready to find out more?
View Our Services
Let's Get Started!
Get Immediate Help on Info & Pricing